Here's what High Peaks DSA is currently working on. If you'd like to get involved in one of these campaigns, feel free to reach out through our Contact page.
Care Not Incarceration
On May 25, 2020, George Floyd was murdered by Derek Chauvin of the Minneapolis Police Department. Three other officers watched and did nothing as Floyd said, "I can't breathe."
Widespread police brutality is just one result of our systemically racist criminal justice system.
Black Americans are 2.5 times more likely to be killed by the police than white Americans. Black Americans are incarcerated at five times the rate of white Americans. The incarceration rate of Black women is twice as high as that of white women.
Check out the NAACP's fact sheet to learn more about racial disparities in our criminal justice system. In response to the murder of George Floyd and police brutality nationwide, High Peaks DSA helped organize protests in Saranac Lake and Lake Placid.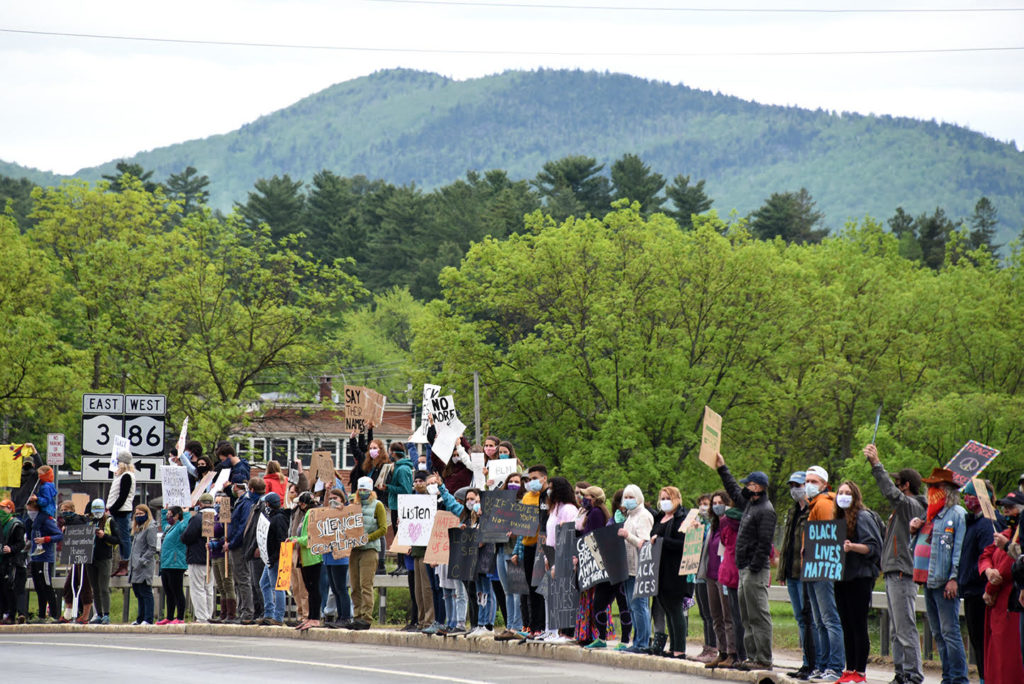 We've also organized around incarceration, as corrections accounts for so many jobs in the North Country. We worked closely with the Release Aging People in Prison (RAPP) campaign after Governor Andrew Cuomo transferred eight dozen elders to Adirondack Correctional Facility, co-hosting one online and one in-person event. As we transition our mutual aid program, we are supporting people who are formerly incarcerated as they are released.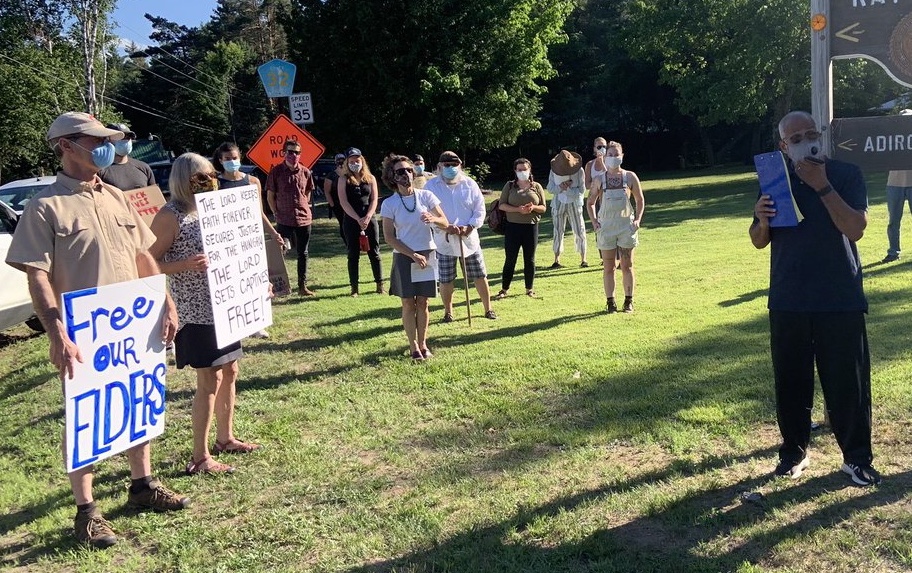 The opioid epidemic has ravaged the U.S., and the Adirondacks have not been immune to its effects. The vast majority of our 911 calls are related to substance use. High Peaks DSA believes in the practice of harm reduction, and seeks to reduce the stigma around Substance Use Disorder.
We are now actively organizing for police reform in our village and are also operating a Mobile Harm Reduction Unit in partnership with the Alliance for Positive Health. Email or call us to learn more about how to get involved!
Housing Rights
Our Housing Working group grew out of our electoral campaigns in the fall of 2020. The North Country is experiencing a housing crisis. 
There has been a sharp rise in housing costing, apartments are rapidly being converted into short-term rentals, and there's been a lack of investment in affordable housing.
Our Housing Working group is currently collecting data on the current state of the housing crisis in the region. You can fill out our anonymous survey to share your experience in the North Country.
The results of this survey, in addition to the data we collected in Fall 2020, will dictate what the group focuses on into the future.
Pro-Choice, Fighting for Abortion Rights
On March 4, 2020, the Saranac Lake Development Board approved a site plan for the Adirondack Pregnancy Center (APC). The APC is a crisis pregnancy center — an anti-choice, anti-abortion organization masquerading as a legitimate healthcare facility. This dangerous anti-choice center is now open and operating.
Like other crisis pregnancy centers, the APC is within walking distance of the town's Planned Parenthood. The APC is connected to shady outside organizations, such as Heartbeat International and Extend Web Services, which have been caught exploiting visitors' personal data.
The Democratic Socialists of America are staunchly pro-choice. We believe healthcare is a human right, and that abortion is healthcare.
To learn more about this campaign and the actions we're planning, read our official statement on the Adirondack Pregnancy Center.